The John McLaughlin
Complete?! Chronological?! Discography
Upcoming Albums.
Albums sorted by the first release date
The discography on this page below is based
on the fundamental work of Mr. Johann Haidenbauer
and Mr. James R. Sheppard. See also acknowledgement.
John McLaughlin as a leader/co-leader
John McLaughlin as a sideman/collaborator
Collection albums mainly - doesn't contain new music
Bootlegs
---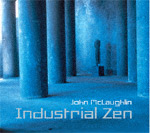 Industrial Zen
John's new CD out May 22nd.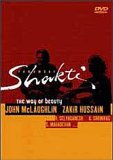 The Way of Beauty --- Shakti
New John McLaughlin/Shakti/Remember Shakti DVD

Soukha - Selvaganesh
Johm Play's on Remember Shakti Member's Solo CD Out 21 May.

---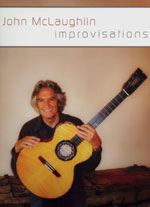 A new book of transcriptions from John's Thieves and Poets CD
Goulash
Matt Haimovitz
Oxingale Records
---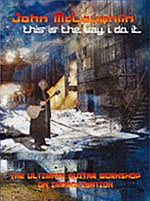 This is the way I do it
3 DVD set of John teaching you his guitar secrets.
Amazing!
Carte Blanche
Andre Ceccarelli
Dreyfus Jazz/ FDM 36660-2
---
John McLaughlin/Remember Shakti Box Set DVD
Remember Shakti II



Saturday Night in Bombay
Verve 440 014 164-2
Remember Shakti II


The Believer
Verve 549 044-2


The Heart of Things Live in Paris
Verve 543 436-2


The Lost Trident Sessions
Mahavishnu Orchestra


Remember Shakti
Remember Shakti
John McLaughlin
The Heart Of Things
Paco De Lucia, Al Di Meola, John McLaughlin
The Guitar Trio

Chick Corea
Music Forever & Beyond

John McLaughlin
The Promise



Support Special Olympics
Jazz To The World
A Tribute to Jimi Hendrix
In From The Storm
Soundtrack by John McLaughlin
Molom
John McLaughlin
After The Rain
Duffy Power
Just Stay Blue
Shakti
The Best of Shakti
The Collector Series
Miles Davis - The Collection
The Free Spirits featuring John McLaughlin
Tokyo Live
various
Carnegie Hall Salutes The Jazz Masters (CD & Video Tape)
Graham Bond
Rarities (bootleg)
John McLaughlin & Mahavishnu Orchestra
Collection
John McLaughlin
Time Remembered: John McLaughlin Plays Bill Evans
Compact Jazz
John McLaughlin
John McLaughlin Trio
Que Alegria
Guitar Player Presents: Legends of Guitar
Jazz - Vol. 2
John McLaughlin Trio
Live in Europe 1991 (bootleg)
Miles Davis
Black Devil (bootleg)
Miles Davis and Friends (movie)
John McLaughlin
Greatest Hits
John McLaughlin/Carlos Santana Band
Live in Chicago (bootleg)
John McLaughlin Trio
Live At The FiESTa International '90 (bootleg cassette)
Katia & Marielle Labeque
Love Of Colours
John McLaughlin Trio
Live at the Royal Festival Hall
John McLaughlin
Concerto for Guitar & Orchestra "The Mediterranean"
various
Jazz Club Guitar
Miles Davis
Aura
Katia & Marielle Labeque
Symphonic Dances and Songs from West Side Story
various
Pioneers of the New Age
various
CTI Masters of the Guitar
Zakir Hussain
Making Music
Danny Gottlieb
Aquamarine
Gil Evans
Gil meets John and Lee (bootleg)
We remember Jimi ... (bootleg)
various
Atlantic Jazz Fusion
Dexter Gordon
The Other Side of Round Midnight
soundtrack
Round Midnight
movie
Round Midnight (Laser Video Disc & VHS Tape)
John McLaughlin & Mahavishnu
Adventures In Radioland
various
Bratislava Jazz Days '85

Ramon Pipin
Nous Sommes Tous Freres
Bill Evans
The Alternative Man
Miles Davis
You're Under Arrest
Katia and Marielle Labeque
Gershwin
Mahavishnu
Mahavishnu
McLaughlin, DiMeola, De Lucia
Live with Al Di Meola and Paco de Lucia (bootleg)
McLaughlin, DiMeola, De Lucia
Passion, Grace & Fire
Katia and Marielle Labeque
Gladrags
John McLaughlin
Music Spoken Here
McLaughlin, DiMeola, De Lucia
Friday Night in San Francisco
John McLaughlin
Belo Horizonte
Paco De Lucia
Castro Marin
Fuse One
Fuse One
The Complete Recordings
Mahavishnu Orchestra
The Best of Mahavishnu Orchestra
John McLaughlin
The Best of John McLaughlin
Tony Williams Lifetime
Once In A Lifetime
Miles Davis
Directions
Dedication
various
Havana Jam II
various
Havana Jam
McLaughlin, De Lucia, Coryell
Meeting Of The Spirits (Laser Video Disc & VHS Tape)
John McLaughlin & The One Truth Band
Electric Dreams
John McLaughlin
Johnny McLaughlin, Electric Guitarist
Shakti
Natural Elements
Shakti
In Concert (BBC transcription LP)
Shakti
A Handful Of Beauty
Stanley Clarke
Live 1976 - 1977
Stanley Clarke
School Days
Shakti
Shakti with John McLaughlin
Mahavishnu Orchestra
Inner Worlds
Larry Coryell
The Essential Larry Coryell
Larry Coryell
Planet End
Sri Chinmoy Lighthouse
Songs Of The Soul (cassette)
Mahavishnu Orchestra
Visions Of The Emerald Beyond
Mahavishnu Orchestra
Eternity's Breath/Can't Stand Your Funk (7" single)
Stanley Clarke
Journey to Love
Tony Williams Lifetime
Lifetime
Rolling Stones
Metamorphosis
John McLaughlin
John McLaughlin In Retrospect
Larry Coryell
Spaces
Miles Davis
Get Up With It
Mahavishnu Orchestra
Apocalypse
Miles Davis
Big Fun
various
KBFH Radio Show (radio show CD)
Mahavishnu Orchestra
Between Nothingness & Eternity
various
Beyond An Empty Dream
movie
Sri Chinmoy
Santana
Welcome
Live w. Buddy Miles
Carlos Santana & Mahavishnu John McLaughlin
Love Devotion Surrender
Mahavishnu Orchestra
Birds Of Fire
Mahavishnu Orchestra
Celestial Terrestrial Commuters/Open Country Joy (7" single)
various
The Progressives
Miles Davis
On The Corner
Miroslav Vitous
Mountain in the Clouds
James Taylor
One Man Dog
Mahavishnu Orchestra
Dance Of The Maya (bootleg)
In Hommage of the Bird God (bootleg)
Live (bootleg)
Mahavishnu Orchestra
Live, King Of Guitars (bootleg)
Birds of Pray (bootleg)
Bundled Sunspray Demise (bootleg)
Mahavishnu Orchestra
The Inner Flamming Axe (bootleg)
Mahavishnu Orchestra
Mar Y Sol. The First Puerto Rico Pop Festival

Miles Davis
Live-Evil
various
The Historic Town Hall Concert
The Guitar Album
Carla Bley
Escalator Over The Hill
Mahavishnu Orchestra
The Inner Mounting Flame
Mahavishnu John McLaughlin
My Goal's Beyond
Miles Davis
A Tribute To Jack Johnson
Miles Davis
Lennies on the Tunpike Boston '71 (bootleg)
Duffy Power
Innovations
Mary Open The Door
Little Boy Blue
John McLaughlin
Devotion
John McLaughlin
Where Fortune Smiles
Joe Farrell Quartet
Joe Farrell Quartet
Supersessions
Song of the Wind
Miles Davis
Hill Auditorium 21/2/'70 (bootleg)
Wayne Shorter
Moto Grosso Feio
Miroslav Vitous
Purple
Tony Williams Lifetime
Turn It Over
Tony Williams Lifetime
One Word/Two Worlds (single)
Graham Bond
Solid Bond
Miles Davis
Bitches Brew
Miles Davis
Great Expectations/The Little Blue Frog (45 r.p.m. single)
Isle Of Wight
Wayne Shorter
Super Nova
Miroslav Vitous
Infinite Search
The Bass
Miles Davis
In A Silent Way
Jimi Hendrix
Hells Sessions (bootleg)
Electric Lady Jams (bootleg)
Let's Drop Some Ludes And Womit With Jimi (bootleg)
Record Plant Jams (bootleg)
Music For Fans (bootleg)
Electric Birthday Jimi (bootleg)
Tony Williams Lifetime
Emergency!
John McLaughlin
Extrapolation
Sandy Brown and his Gentlemen! Friends
Hair At Its Hairiest
Jack Bruce
Things We Like
Ken Wheeler
Windmill Tilter
Georgie Fame & the Blue Flames
Third Face Of Fame
The Ballad of Bonnie and Clyde
Kentucky Child (7" single)
various
The Soul Of British R'n'B 1962-1968
various
Top of the Pops - 167 (BBC Transcription LP)
various
Top of the Pops - 164 (BBC Transcription LP)
various
The British RnB Explosion, Volume 1
Gordon Beck Quartet
Experiments With Pops
Biddu
Daughter Of Love/Look Out Here I Come (single)
David Bowie
The World Of David Bowie
The Emcee Five
Bebop 61
Georgie Fame
Knock On Wood/Road Runner (7" single)
Georgie Fame
Knock On Wood (7" EP)
Georgie Fame
Because I Love You/Bidin' My Time (single)
Duffy Power
Hound Dog/Mary Open The Door (7" EP)
Herbie Goins & The Night-Timers
Soultime!
Herbie Goins & The Night-Timers
Soul, Soul, Soul
Herbie Goins & The Night-Timers
Coming Home To You/The Incredible Miss Brown (7" single)
Herbie Goins & The Night-Timers
No. 1 In Your Heart
Twice As Much
Own Up
Howard Blake
That Hammond Sound
various
Sights & Sounds of London
Herbie Goins & The Night-Timers
No. 1 In Your Heart/Cruisin' (single)
Duffy Power
Duffy Power (EP)
London All Stars
British Percussion
The Night-Timers featuring Herbie Goins
The Music Played On/Yield Not To Temptation (single)
Tony Meehan
Song Of Mexico/King Go Fifth (single)
Duffy Power with the Graham Bond Quartet
I Saw Her Standing There/Farewell Baby (single)