If you have never used any version of NewsWatcher before, then I strongly recommend that you download, read and digest the comprehensive documentation that John Norstad provides for the standard version of NewsWatcher. It comes in two formats:
PostCard (a standalone document viewer) format
This will give you a good introduction to the Usenet system, and how you can use NewsWatcher to read and post news.

Many colleges and service providers provide some NewsWatcher documentation online. Here are a couple of links:

In addition, NewsWatcher has fairly extensive online help, under the
menu, and uses balloon help for most things, both in dialogs and normal windows: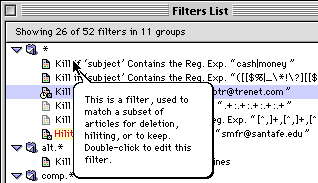 Your next port of call should be these documents, which explain filtering and MT-NewsWatcher's other unique features in great detail. If you are still confused, the folk on comp.sys.mac.comm will likely be glad to help.