Next:
Multimedia Systems
Up:
Multimedia/Hypermedia
Previous:
What is Multimedia?
Hypertext is a text which contains links to other texts. The term was invented by Ted Nelson around 1965.
Hypertext is therefore usually non-linear (as indicated below).
Definition of Hypertext
HyperMedia is not constrained to be text-based. It can include other media, e.g., graphics, images, and especially the continuous media - sound and video. Apparently, Ted Nelson was also the first to use this term.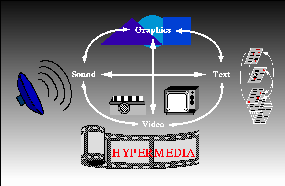 Definition of HyperMedia
The World Wide Web (WWW) is the best example of hypermedia applications.
---
Dave Marshall
10/4/2001