This page is dedicated
to Arab writers
who choose the
English language for
their thoughts.
If you are one
of them, please
send us an
email. If you are not,
and have read a book that is
not included in this list,
please also get in
touch. A 3 to 5 line
review of the
book would be greatly
appreciated.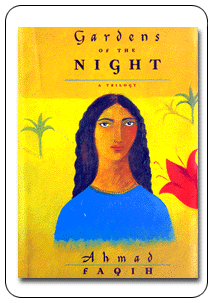 Gardens of the Night by Ahmed Fagih
(see author web site at: http://www.fagih.com/)
Amin Malouf

Taha Hussein

Leila Aboulela

The Translator (Nominated for the Orange book prize in 2000)
A wonderful and simple first novel, beautifully written. A must read for people interested in cross-cultural marriages.

Ahmed Fagih

Ahdaf Soueif

Aisha
Ahdaf Soueif's first novel is entertaining, lively and charming. The relationships and experiences of characters that Aisha meets, growing up in Egypt and Britain, are interwoven to create a surprisingly sexy novel, full of wit, passion and grief.

The Map of Love (Nominated for the Booker Prize in 1999)
In this novel the landscape of Egypt is beautifully brought alive when an English lady not only falls in love with her colonial country, but learns so much of its people, she embraces its culture wholeheartedly, and struggles with its politics. Meanwhile we discover this intriguing liaison from a modern perspective, and the reader's subjective position regarding Egypt and its colonial past is more keenly challenged. Far more than just a love story, although its narrative is compelling, this is a thoughtful piece of post-colonial writing.

Naguib Mahfouz

The Cairo Trilogy

Harafish translated by Catherine Cobham


Betool Khedairi

Leila Ahmed

A Border Passage
In her provocative memoir, Leila Ahmed reflects on both her social and political experiences as she moves from Egypt to Cambridge, Abu Dhabi and the U.S. Through her contemplations on the cultural climate at each stage of her journey, she explores the issue of identity. Brought up during the Revolution in Egypt, Leila Ahmed reveals her perspectives on colonial and post-colonial Egypt and Arab nationalism. Since her views stem largely from her family's opposition to Nasser, her analysis, if brave, is highly controversial. As her journey moves out of Egypt, she skilfully captures her personal understanding of issues such as Islam, racism and feminism.

Zeina Ghandour

Jamal Mahjoub

Fadia Faqir

Tayib Salih

Fuad Ajamis

The Dream Palace of the Arabs

Nawal Sadawi

Ghassan Kanafani

Ahlam Mustaghanmi

Nizar Qabbani

Khalil Gibran
---
Non-Fiction
Sadiq Al-Azm

Leila Fawaz

Kamal Salibi

The Bible Came from Arabia
Secrets of the Bible People
Who was Jesus? A Consipiracy in Jerusalem

Fatima Mernissi

Nuha Al-Radi

Nawal Sadawi

Salma Khadra Jayyusi

An Anthology of Palestinian Writers

Dayzi Al-Amir

Naim Attallah