Dave Marshall's Publications
---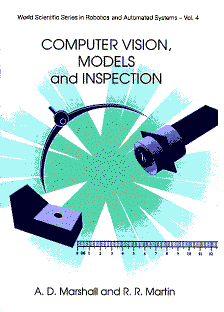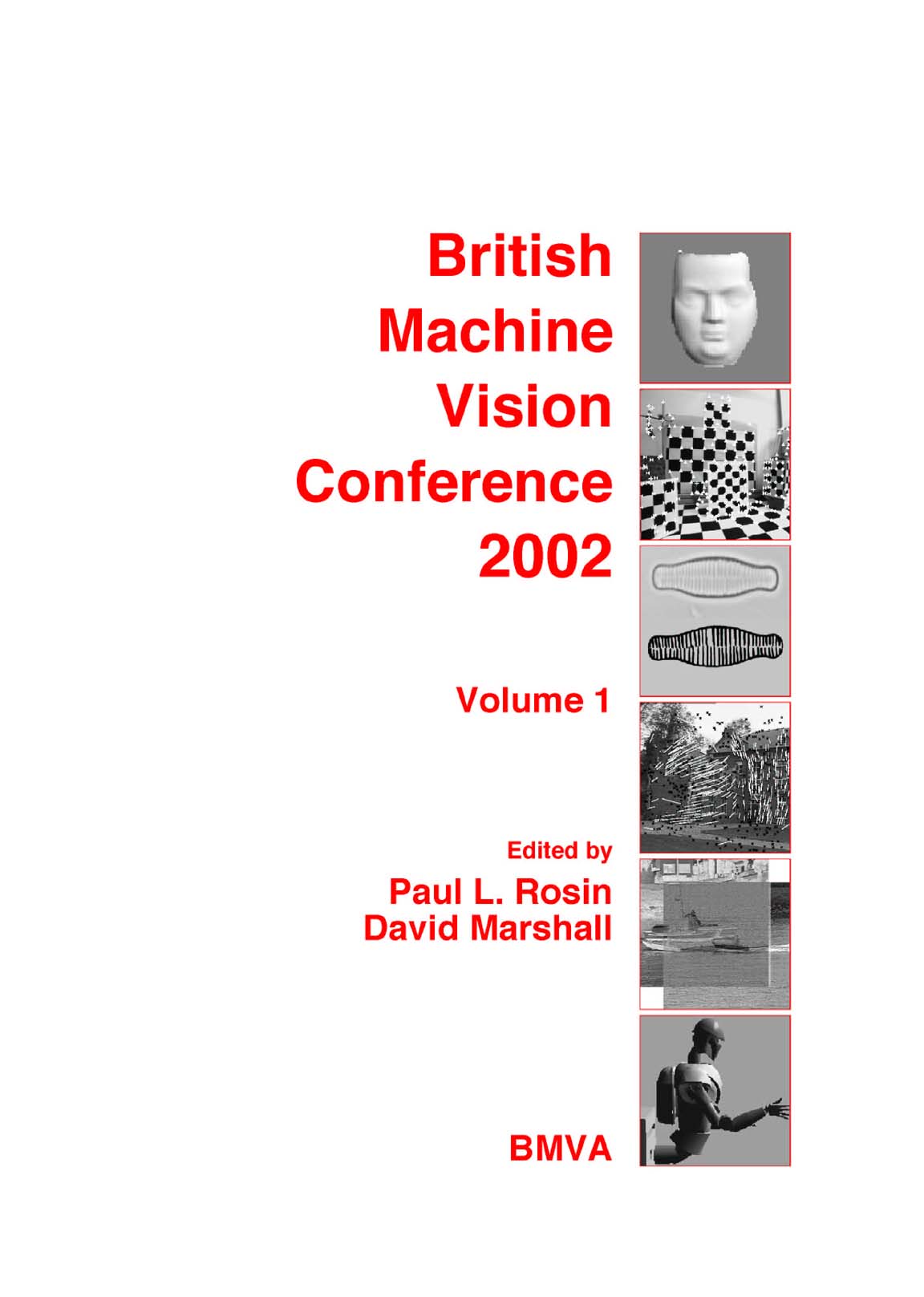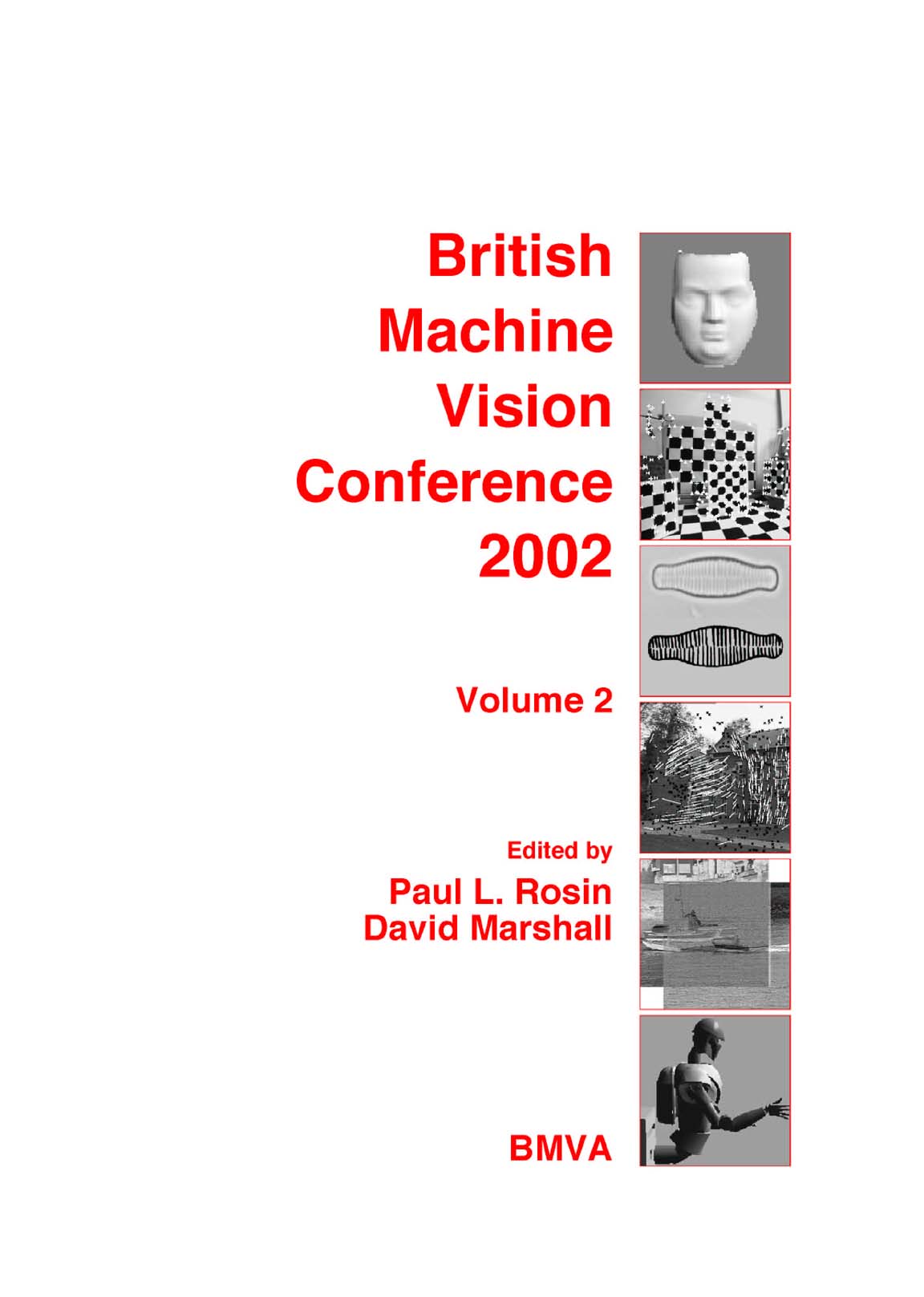 ---


Availability:
Some of the publications listed below are available online; their titles appear as links if available in this way. To download a publication via ftp, click on its title.


Books:
2002:

Proceedings of the British Machine Vision Conference 2002,
Eds. A.D. Marshall and P.L. Rosin,
Cardiff, Sept. 2002, BMVA Press

1992:

Computer Vision, Models and Inspection
A. D. Marshall, R. R. Martin
World Scientific, Singapore.

1990:

"The automatic inspection of machined parts using three-dimensional range data and model based matching techniques",
A.D. Marshall,
Ph.D. thesis, University of Wales College of Cardiff, 1990.


Papers and Reports:
2019

What's in a Smile? Initial Analyses of Dynamic Changes in Facial Shape and Appearance
D.J.J. Farnell, A.I. Zhurov, S. Richmond, D. Marshall, P.L. Rosin, K. Al-Meyah, P. Pirttiniemi, R. Lähdesmäki
Journal of Imaging, vol. 5, no. 1, 2019.

2018

Automated Screening for Bipolar Disorder from Audio/Visual Modalities
Z Syed, K. Sidorov and D Marshall
AVEC 2018 - 8th Audio/Visual Emotion Challenge and Workshop,ACM Multimedia 2018 conference, 22-26 October, Seoul, Korea

Computational Paralinguistics: Automatic Assessment of Emotions, Mood and Behavioural State from Acoustics of Speech Z Syed, J. Schroeter, K Sidorov, D Marshall
The INTERSPEECH 2018 Computational Paralinguistics ChallengE (ComParE): Atypical & Self-Assessed Affect, Crying & Heart Beats 2, INTERSPEECH 2018, PDF

3-Step Speaker Identification Approach in Degraded Conditions
S. Boujnah, X. Sun, D. Marshall, P.L. Rosin, M.L. Ammari
Int. Multi-Conf. on Systems, Signals and Devices, pp. 1100-1103, 2018.

A 3D morphometric perspective for facial gender analysis and classification using geodesic path curvature features
H. Abbas, Y. Hicks, D. Marshall, A. Zhurov and S. Richmond
Computational Visual Media 4 (1) , pp. 17-32. DOI: 10.1007/s41095-017-0097-1

2017

Psychomotor cues for depression screening, Depression Severity Prediction Based on Biomarkers of Psychomotor Retardation Z. Shah, K. Sidorov and D. Marshall
AVEC '17: Proceedings of the 7th Annual Workshop on Audio/Visual Emotion Challenge, October 2017

Psychomotor cues for depression screening
Z. Shah, K. Sidorov and D. Marshall
22nd International Conference on Digital Signal Processing (DSP), August 2017

4D Analysis of Facial Ageing Using Dynamic Features
K. Al-Meyah, D. Marshall and P.L. Rosin
Procedia Computer Science, vol. 112, pp. 790-799, 2017. DOI: 10.1016/j.procs.2017.08.037

An Open-data, Agent-based Model of Alcohol Related Crime
J. Redfern, K. Sidorov, P.L. Rosin, S.C. Moore, P. Corcoran and D. Marshall
Int. Conf. Advanced Video and Signal Based Surveillance, 2017.

Detecting Violent and Abnormal Crowd activity using Temporal Analysis of Grey Level Co-occurence Matrix (GLCM) Based Texture Measures
K. Lloyd, P.L. Rosin, D. Marshall, S.C. Moore
Machine Vision and Applications, vol. 28, no. 3, pp. 361-371, 2017.

High-speed video generation with an event camera
H. Liu, F Zhang, D Marshall, L Shi and S. Hu
The Visual Computer, Volume 33, Issue 6–8, pp 749–759, DOI: 10.1007/s00371-017-1372-y

Development of a Computational Model to Aid Prediction of Neurosurgical Brain Shift
N. J. Bennion, M. Potts, A. D. Marshall, S. Anderson, S. L. Evans,
Computer Methods in Biomechanics and Biomedical Engineering, DOI: 10.1007/978-3-319-59764-5_21

2016

Violent Behaviour Detection using Local Trajectory Response
K. Lloyd, P.L. Rosin, D. Marshall, S.C. Moore
Int. Conf on Imaging for Crime Detection and Prevention, Madrid, November 23-25th 2016.

Speech-driven Facial Animation Using Manifold Relevance Determination
S. Albasri, Y. Hicks and D. Marshall
ECCV/ACM MM 2016 workshop on Computer Vision for Audio-Visual Media, Oct 2016.

Development of a Physical Brain-Skull Model for the Study of Neurosurgical Brain Shift
M. Potts, N. J. Bennion, A.D Marshall, S. Anderson and S. Evans
The 14th International Symposium Computer Methods in Biomechanics and Biomedical Engineering, Tel Aviv, Israel, 20 - 22 September 2016

Development of a computational model to aid prediction of neurosurgical brain shift
N. J. Bennion, M. Potts, A.D Marshall, S. Anderson and S. Evans
The 14th International Symposium Computer Methods in Biomechanics and Biomedical Engineering, Tel Aviv, Israel, 20 - 22 September 2016

Automated Registration of Multimodal Optic Disc Images: Clinical Assessment of Alignment Accuracy, (PDF)
W.S. Ng, P. Legg, V. Avadhanam, K. Aye, S.H.P. Evans, R.V. North, A.D. Marshall, P.L. Rosin, J.W. Morgan,
Journal of Glaucoma, vol. 25, no. 4, pp. 397-402, 2016.
DOI: 10.1097/IJG.0000000000000252

A Smallest Grammar Approach to the Symbolic Analysis of Music
Kirill Sidorov, Andrew Jones, David Marshall
Book Chapter in Trends in Music Information Seeking, Behavior, and Retrieval for Creativity, IGI Global.

2015

The influence of snoring, mouth breathing and apnoea on facial morphology in late childhood: a three-dimensional study (PDF)
A.A. Ali, S. Richmond, H. Popat, R. Playle, T. Pickles, A.I. Zhurov, D. Marshall, P.L Rosin, J. Henderson, K. Bonuck,
BMJ Open, 5:9 e009027, 2015.
DOI: 10.1136/bmjopen-2015-009027

4D Cardiff Conversation Database (4D CCDb): A 4D Database of Natural, Dyadic Conversations (PDF)
J. Vandeventer, A. J. Aubrey, P. L. Rosin, D. Marshall
1st Joint Conference on Facial Analysis, Animation and Auditory-Visual Speech Processing (FAAVSP), 11-13 September, Vienna, Austria, 2015.
DOI: 10.1109/CVPRW.2013.48

Towards 4D Coupled Models of Conversational Facial Expression Interactions (PDF)
J. Vandeventer, L. Graser, M. Rychlowska, P. L. Rosin, D. Marshall
Proceedings of the British Machine Vision Conference (BMVC), Swansea, UK 8-10 September, 2015.
DOI: 10.5244/C.29.142

Automatic Classification of Facial Morphology for Medical Applications (PDF)
Hawraa Abbasa, Yulia Hicks, David Marshall
19th International Conference on Knowledge Based and Intelligent Information and Engineering Systems, 7-9 Sept. 2015, Singapore
DOI:10.1016/j.procs.2015.08.275

Feature Neighbourhood Mutual Information for multi-modal image registration: An application to eye fundus imaging ( PDF )
P.A. Legg, P.L. Rosin, D. Marshall, J.E. Morgan,
Pattern Recognition, vol. 48, no. 6, pp. 1937-2118, 2015.
DOI: 10.1016/j.patcog.2014.12.014

Assistive Sports Video Annotation: Modelling and Detecting Complex Events in Sports Video (PDF)
Aled Owen, David Marshall, Kirill Sidorov, Yulia Hicks, and Rhodri Bown
MathSport International 2015, Loughborough University, 29th June - 1st July 2015

Can Smart Devices Assist In Geometric Model Building? (PDF)
Richard Milliken, Jim Cordwell, Stephen Anderson, Ralph R. Martin and David Marshall
IEEE Sensors Applications Symposium (SAS), Zadar, Croatia, 13-15 April 2015, DOI: 10.1109/SAS.2015.7133625

2014

A three-dimensional analysis of the effect of atopy on face shape
Al Ali, S. Richmond, H. Popat, A.M. Toma, R. Playle, T. Pickles, A.I. Zhurov, D. Marshall, P.L. Rosin, J. Henderson
The European Journal of Orthodontics, vol. 36, no. 5, pp. 506-511, 2014.
DOI: 10.1093/ejo/cjs107

Music Analysis as a Smallest Grammar Problem
Kirill Sidorov, Andrew Jones and David Marshall
ISMIR 2014: 15th International Society for Music Information Retrieval Conference, Oct 27–31, 2014, Taipei, Taiwan.

The influence of asthma on face shape: a three-dimensional study
A.A. Ali, S. Richmond, H. Popat, A.M. Toma, R. Playle, A.I. Zhurov, D. Marshall, P.L. Rosin, J. Henderson
European Journal of Orthodontics, vol. 36, pp. 373-380, 2014. DOI: 10.1093/ejo/cjs067

Simulation of surgical cutting using a progressive cutting scheme and extended finite element method (PDF)
Y. Ding, S. Bordas, P. Rosin and D. Marshall
World Congress on Comput. Mechanics and European Conf. Comput. Mechanics & Fluid Dynamics, 2014.

μTunes: A Study of Musicality Perception in an Evolutionary Context (PDF)
Kirill Sidorov Robin Hawkins Andrew Jones David Marshall
ICMC|SMC|2014 Joint Conference of 40th International Computer Music Conference (ICMC) with the 11th Sound & Music Computing conference 14–20 September 2014, Athens, Greece.

Learnt Real-time Meshless Simulation
K. A. Sidorov and A. D. Marshall
Computer Graphics Forum 33(5)
DOI: 10.1111/cgf.12440, 08/2014.

BRANDI: Bayesian Regularisation of Advanced Neurological Diffusion Imaging (PDF)
Susan Doshi, Derek Jones, Daniel Barazany, Paul Rosin and David Marshall
Joint Annual Meeting ISMRM-ESMRMB 2014, 10–16 May 2014, Milan, Italy

Non-Invasive Detection of Early Retinal Neuronal Degeneration by Ultrahigh Resolution Optical Coherence Tomography
Debbie Tudor, Vedran Kajic, Sara Rey, Irina Erchova, Boris Považay, Bernd Hofer, Kate A. Powell, David Marshall, Paul L. Rosin, Wolfgang Drexler and James E. Morgan
PLOS One Vol. 9. Issue 4, 2014
DOI: 10.1371/journal.pone.0093916 (http://www.plosone.org/article/info%3Adoi%2F10.1371%2Fjournal.pone.0093916)


Facial Expression Recognition in Dynamic Sequences: an Integrated Approach
H. Fang, N. Mac Parthalain, A.J. Aubrey, G.K.L. Tam, R. Borgo, P.L. Rosin, P.W. Grant, D. Marshall and M. Chen
Pattern Recognition, Vol. 47, No. 3, 1271–1281, 2014.
DOI: 10.1016/j.patcog.2013.09.023 (http://www.sciencedirect.com/science/article/pii/S0031320313003956)
ISSN 0031-3203.

Virtual Unrolling and Information Recovery From Scanned Scrolled Historical Documents
O. Samko, Y. Lai, D. Marshall, P.L. Rosin,
Pattern Recognition, Vol. 47, No. 1, pp. 248-259, 2014.
DOI= 10.1016/j.patcog.2013.06.01 (www.sciencedirect.com/science/article/pii/S0031320313002677)
ISSN 0031-3203.

2013

Improving accuracy and efficiency of mutual information for multi-modal retinal image registration using adaptive probability density estimation
P A Legg, P L Rosin, D Marshall, J E Morgan
Computerized Medical Imaging and Graphics, Volume 37, No. 7–8 (October–December 2013), pp 597-606
DOI: 10.1016/j.compmedimag.2013.08.004 (www.sciencedirect.com/science/article/pii/S0895611113001377)
ISSN 0895-6111

Determining normal and abnormal lip shapes at border positions for use as a longitudinal surgical outcome measure
H. Popat, A.I. Zhurov, S. Richmond, D. Marshall and P.L. Rosin
Journal of Oral Rehabilitation, Vol. 40, No. 5, pp. 348-57, 2013.
DOI: 10.1111/joor.12037 (PDF)
ISSN 1365-2842

Registration of 3D Point Clouds and Meshes: A Survey From Rigid to Non-Rigid
G. Tam, Z. Cheng, Y. Lai, F.C. Langbein, Y. Liu, D. Marshall, R.R. Martin, X. Sun, and P.L. Rosin,
IEEE Transactions on Visualization and Computer Graphics, (Volume:19 , Issue: 7 ), pp 1199 - 1217
DOI: http://doi.ieeecomputersociety.org/10.1109/TVCG.2012.310, July 2013
ISSN : 1077-2626

Visualizing Natural Image Statistics
H. Fang, G. Tam, R. Borgo, A. Aubrey, P. Grant, P. Rosin, C. Wallraven, D. Cunningham, D. Marshall and M. Chen,
IEEE Transactions on Visualization and Computer Graphics, (Volume:19 , Issue: 7 ), pp 1228-1241
DOI: http://doi.ieeecomputersociety.org/10.1109/TVCG.2012.312, July 2013
ISSN : 1077-2626

Water Surface Modeling from A Single Viewpoint Video
Chuan Li, David Pickup, Thomas Saunders, Darren Cosker, David Marshall, Peter Hall and Philip Willis,
IEEE Transactions on Visualization and Computer Graphics, (Volume:19 , Issue: 7 ), pp 1242-1251
DOI: http://doi.ieeecomputersociety.org/10.1109/TVCG.2012.302, July 2013
ISSN : 1077-2626

A Geometric Morphometric Approach to the Analysis of Lip Shape during Speech: Development of a Clinical Outcome Measure
H. Popat, A.I. Zhurov, A.M. Toma, D. Marshall, P.L. Rosin, S. Richmond
PLOS ONE, Vol.8, No. 2, 2013.
DOI: 10.1371/journal.pone.0057368
(PDF)

Making Bas-reliefs from Photographs of Human Faces (PDF)
J. Wu, R. R. Martin, P. L. Rosin, X-F. Sun, F. C. Langbein, Y.-K. Lai, A. D. Marshall, Y.-H. Liu
Computer Aided Design 45 (3), 671-682, 2013.
DOI: http://dx.doi.org/10.1016/j.cad.2012.11.002

A pitfall in the reconstruction of fibre ODFs using spherical deconvolution of diffusion MRI data
Parker GD, Marshall AD, Rosin PL, Drage N, Richmond S, Jones DK. Neuroimage, Vol. 65, pp. 433-448, 2013.
(Preprint available, http://dx.doi.org/10.1016/j.neuroimage.2012.10.022, 2012)

2012

The Face Speaks: Contextual and Temporal Sensitivity To Backchannel Responses (PDF)
A.J. Aubrey, D.W. Cunningham, D. Marshall, P.L. Rosin, A. Shin, C. Wallraven
ACCV workshop on Face analysis: The intersection of computer vision and human perception, 2012.

Facial and Vocal Cues in Perceptions of Trustworthiness (PDF)
E. Tsankova, A.J. Aubrey, E. Krumhuber, G. Möllering, A. Kappas, D. Marshall, P.L. Rosin
ACCV workshop on Face analysis: The intersection of computer vision and human perception, 2012.

Vocal and Facial Trustworthiness of Talking Heads
Andrew J. Aubrey , Elena Tsankova, Eva G. Krumhuber, Guido Moellering, Arvid Kappas , Antony S.R. Manstead, David Marshall, Paul L. Rosin
FAA: The 3rd International Symposium on Facial Analysis and Animation, Vienna, Austria, 21st September, 2012.

The assessment of facial variation in 4747 British school children
Toma A.M., Zhurov A.I., Playle R., Marshall D., Rosin P.L., Richmond S.
European Journal of Orthodontics, Vol. 34 Pages 655–664, Dec. 2012 (first published online September 20, 2011)
DOI: 10.1093/ejo/cjr106
URL: http://ejo.oxfordjournals.org/content/early/2011/09/20/ejo.cjr106.short

A hybrid phoneme based clustering approach for audio driven facial animation (PDF)
Havell B, Rosin P L, Sanei S, Aubrey A, Marshall D, Hicks Y A
Proceedings of the IEEE International Conference on Acoustics, Speech and Signal Processing (IEEE ICASSP 2012), Kyoto, Japan (25-30 March 2012), (2012)

Statistical modelling of facial movement in the clinical context
H. Popat, A.I. Zhurov, A.M. Toma, S. Richmond, D. Marshall, P.L. Rosin
Orthodontics and Craniofacial Research, vol. 15 (3), pp. 92-102, 2012. DOI: 10.1111/j.1601-6343.2011.01539.x

Three-dimensional assessment of functional change following Class 3 orthognathic correction - A preliminary report
H. Popat, S. Richmond, D. Marshall, P.L. Rosin
Journal of Cranio-Maxillofacial Surgery, vol. 40, no. 1, pp. 36-42, 2012.

Automated choroidal segmentation of 1060 nm OCT in healthy and pathologic eyes using a statistical model
V. Kajic, M. Esmaeelpour, B. Povazay, D. Marshall, P.L. Rosin, W. Drexler
Biomedical Optics Express, vol. 3, no. 1, pp. 86-103, 2012.

2011

Visualization of Time-Series Data in Parameter Space for Understanding Facial Dynamics
Tam, G. K. L., Fang, H., Aubrey, A.J., Grant, P.W., Rosin, P.L., Marshall, D., and Chen, M.
Computer Graphics Forum, Vol. 30, No. 3, pp. 901–910, June 2011. DOI: DOI: 10.1111/j.1467-8659.2011.01939.x

Automatic analysis of composite activities in video sequences using key action discovery and hierarchical graphical models
Kaloskampis I, Hicks Y A, Marshall D,
IEEE International Conference on Computer Vision Workshops (Barcelona, Spain) , (2011) 890-897

Reinforcing Conceptual Engineering Design with a Hybrid Computer Vision, Machine Learning and Knowledge Based System Framework
Ioannis Kaloskampis, Yulia A. Hicks and David Marshall
Proceedings of the 2011 IEEE International Conference on Systems, Man, and Cybernetics (IEEE SMC 2011), Anchorage, Alaska, October 9-12, 2011
ISBN: 978-1-4577-0652-3
DOI : 10.1109/ICSMC.2011.6084169

Intelligent filtering by semantic importance for single-view 3D reconstruction from Snooker video
P. A. Legg, M. L. Parry, D. H. S. Chung, M. R. Jiang, I. Griffiths, D. Marshall and M. Chen
Proceedings of the International Conference on Image Processing (ICIP) 2011
Brussels, Belgium, Sept. 11-14, 2011.

Segmentation of Parchment Scrolls for Virtual Unrolling (PDF)
O. Samko, Y. Lai, D. Marshall, P.L. Rosin
Proceedings of British Machine Vision Conference, 2011.

Analysing Engineering Tasks using a Hybrid Machine Vision and Knowledge based System Application
Kaloskampis I, Hicks Y A, Marshall D
Proceedings of the 12th IAPR Conference on Machine Vision Applications (MVA 2011), Nara, Japan, 13-15 June 2011 , (2011)
ISBN/ISSN: 978-4-901122-11-5

Facial Movement in 3 Dimensions: Average Templates of Lip Movement in Adults,
Hashmat Popat, Stephen Richmond, David Marshall, and Paul L Rosin
Otolaryngol: Head Neck Surgery, vol. 145 no. 1, pages 24-29, July, 2011.
http://oto.sagepub.com/content/145/1/24, Doi: 10.1177/0194599811401701

Analysing Engineering Tasks Using a Hybrid Machine Vision and Knowledge Based System Application (Paper (PDF))
Ioannis Kaloskampis, Yulia A. Hicks and David Marshall, in Proceedings of the 12th IAPR Conference on Machine Vision Applications (MVA 2011), Nara, Japan, June 13-15, 2011 (ISBN 978-4-901122-11-5).

Efficient Groupwise Non-rigid Registration of Textured Surfaces (Paper (PDF), Poster)
Kirill Sidorov, Stephen Richmond and David Marshall
Proceedings of the International Conference on Computer Vision and Pattern Recognition (CVPR) 2011, Colorado Springs, USA, June 21-23, 2011, pp 2401-2408

Mapping and Manipulating Facial Dynamics (PDF)
A.J. Aubrey, V. Kajic, I. Cingovska, P.L. Rosin, D. Marshall
Int. Conf. on Automatic Face and Gesture Recognition, 2011.

From Video to 3D Animated Reconstruction: A Computer Graphics Application for Snooker Skills Training (Paper (PDF), Poster)
P. A. Legg, M. L. Parry, D. H. S. Chung, R. M. Jiang, A. Morris, I. W. Griffiths, D. Marshall and M. Chen
Eurographics, Llandudno 2011.

A new method for generating site-specific clutter map for land based radar by using multimodal remote sensing images and digital terrain data
A. Kurekin, D. Radford, D. Marshall, and K. Lever
IET Radar, Sonar and Navigation
Volume 5, Issue 3, March 2011, pp. 374-388.
Doi: 10.1049/iet-rsn.2010.0036

Three-dimensional assessment of functional change following Class 3 orthognathic correction - A preliminary report
Hashmat Popat, Stephen Richmond, David Marshall and Paul L. Rosin
Journal of Craniomaxillofacial Surgery, Mar 4, 2011. Vol 40(1), pages 36-42, http://www.ncbi.nlm.nih.gov/pubmed/21377887 , Doi: 10.1016/j.jcms.2010.12.005

2010

Assessment of Facial Movement
Hashmat Popat, Stephen Richmond, David Marshall, Paul L. Rosin, and Lanthao Benedikt
Three-Dimensional Imaging for Orthodontics and Maxillofacial Surgery Eds. Chung How Kau, Stephen Richmond Part 3: Movement and Facial Dynamics, pp 251-266, Wiley-Blackwell, ISBN: 9781405162401, (2010)

Facial Actions for Biometric Applications Lanthao Benedikt, Paul L. Rosin, David Marshall, Darren Cosker, Hashmat Popat, and Stephen Richmond
Three-Dimensional Imaging for Orthodontics and Maxillofacial Surgery Eds. Chung How Kau, Stephen Richmond Part 3: Movement and Facial Dynamics, pp 267-285, Wiley-Blackwell, ISBN: 9781405162401, (2010)

Nonrigid Image Registration Using Groupwise Methods Kirill Sidorov, David Marshall, and Stephen Richmond Three-Dimensional Imaging for Orthodontics and Maxillofacial Surgery Eds. Chung How Kau, Stephen Richmond Part 3: Movement and Facial Dynamics, pp 286-300, Wiley-Blackwell, ISBN: 9781405162401, (2010)

A k-dimensional Subspace based Tensor Factorization Approach for Underdetermined Blind Identification
Bahador Makkiabadi, Saeid Sanei and David Marshall
Proceedings of the IEEE Asilomar conference on Signals, Systems and Computers (ACSSC10) CA, USA (INVITED PAPER), November 7-10, 2010

Behaviour Transfer Between Expressive Talking Heads
Andrew Aubrey, David Marshall, Paul Rosin
FAA: The ACM / SSPNET 2nd International Symposium on Facial Analysis and Animation, October 21, 2010

Comparison of Techniques for Audio Driven Facial Animation
Benjamin Havell, David Marshall, Yulia Hicks, Paul Rosin, Saeid Sanei and Andrew Aubrey
FAA: The ACM / SSPNET 2nd International Symposium on Facial Analysis and Animation, October 21, 2010

Comparing Feature-based Metrics for Facial Dynamics Analysis
Andrew J. Aubrey, Gary K.L. Tam, David Marshall, Paul L. Rosin, Hui Fang, Phil W. Grant and Min Chen
FAA: The ACM / SSPNET 2nd International Symposium on Facial Analysis and Animation, October 21, 2010

Improving joint tracking and classification with the transferable belief model and terrain information
M. S. Roberts, A. D. Marshall and G. R. Powell
Proceedings of the 13th International Conference on Information Fusion (Fusion 2010), 26-29 July 2010 EICC Edinburgh, UK

Empty set biasing issues in the transferable belief model for fusing and decision making
G. R. Powell, M. S. Roberts and A. D. Marshall
Proceedings of the 13th International Conference on Information Fusion (Fusion 2010), 26-29 July 2010 EICC Edinburgh, UK

Robust segmentation of intraretinal layers in the normal human fovea using a novel statistical model based on texture and shape analysis ( PDF available here)
Vedran Kajic, Boris Povazay, Boris Hermann, Bernd Hofer, David Marshall, Paul L. Rosin, and Wolfgang Drexler
Optics Express, Vol. 18, Issue 14, pp. 14730-14744 (2010) doi:10.1364/OE.18.014730

Assessing the Uniqueness and Permanence of Facial Actions for Use in Biometric Applications
L. Benedikt, D. Cosker, P.L. Rosin, D. Marshall
IEEE Transactions on Systems, Man and Cybernetics, part A, vol. 40, no. 3, pp. 449-460, 2010.
doi: 10.1109/TSMCA.2010.2041656
URL: http://ieeexplore.ieee.org/stamp/stamp.jsp?tp=&arnumber=5438780&isnumber=5446553

A comparison of the reproducibility of verbal and non-verbal facial gestures using 3D motion analysis
H. Popat, E Henley, S. Richmond, L. Benedikt, D. Marshall and P.L. Rosin
Journal of Otolaryngology, Head and Neck Surgery
vol. 142, no. 6, pp. 867-872, 2010.

Pitfalls for recursive iteration in set based fusion
Gavin Powell, Matthew Roberts, David Marshall
Workshop on the Theory of Belief Functions, April 1-2, 2010 Brest, France

2009

Quantitative analysis of facial movement - A review of three dimensional imaging techniques
H. Popat, S. Richmond, L. Benedikt, D. Marshall, P.L. Rosin
Computerized Medical Imaging and Graphics, vol. 33, no. 5, pp. 377-383, 2009.

Real-Time Generation of Interactive Virtual Human Behaviours ( PDF - SpringerLink Subscription Required)
Y. Zheng, Y. Hicks, D. Marshall, D. Cosker
Lecture Notes in Communications in Computer and Information Science Series: Computer Vision and Computer Graphics. Theory and Applications, Springer-Verlag, Vol. 24, Springer, pp 70-82
DOI: 10.1007/978-3-642-10226-4_6

A robust solution to multi-modal image registration by combining mutual information with multi-scale derivatives
P.A. Legg, P.L. Rosin, D. Marshall and J.E. Morgan
Medical Image Computing and Computer Assisted Intervention (MICCAI) 2009, Vol. 1, pp. 616-623, 2009. ( paper) (poster) (e-teaser)

Non-rigid elastic registration of retinal images using local window mutual information
P.A. Legg, P.L. Rosin, D. Marshall and J.E. Morgan
Medical Image Understanding and Analysis (MIUA), pp. 144-148, 2009. (paper) (poster)

An Efficient Stochastic Approach to Groupwise Non-rigid Image RegistrationPDF (IEEEXplore)
Kirill Sidorov, Stephen Richmond and David Marshall.
Proceedings of CVPR 2009, pp 2208-2213, Miami, USA, June 2009
DOI:10.1109/CVPR.2009.5206516

Effects of Dynamic Attributes of Smiles in Human and Synthetic Faces: A Simulated Job Interview Setting
Eva Krumhuber, Antony S. R. Manstead, Darren Cosker, Dave Marshall and Paul L. Rosin
Journal of Non-Verbal Behaviour, 33 (1), pp. 1-15, March 2009

2008

Towards automatic performance-driven animation between multiple types of facial model
D. Cosker, R. Borkett, D. Marshall and P.L. Rosin
IET Computer Vision, Vol. 2, No. 3, pp. 129-141, 2008.
(Preprint available here (PDF))

Using classification to improve wireless sensor network management with the continuous transferable belief model
M.S. Roberts and A.D Marshall
Proceedings SPIE 7112, Unmanned/Unattended Sensors and Sensor Networks V, 711204 (2008); DOI:10.1117/12.799981
Online Publication Date: 7 October 2008

Facial Dynamics in Biometric Identification
L. Benedikt, V, Kajic, D. Cosker, P. Rosin and D. Marshall
Proceedings of the British Machine Vision Conference 2008
Leeds, UK, 1-4 Sept., pp. 1075-1084, 2008

A particle model of crowd behavior: exploring the relationship between alcohol, crowd dynamics and violence
S.C. Moore, M. Flajslik, P.L. Rosin and D. Marshall
Aggression and Violent Behavior, vol. 13, no. 6, pp. 413-422, 2008.

Incorporating neighbourhood feature derivatives with Mutual Information to improve accuracy of multi-modal image registration
P.A. Legg, P. L. Rosin, D. Marshall and J. E. Morgan
Proc. Medical Image Understanding and Analysis, pp. 39-43, 2008.(paper) (poster)

3D Facial Gestures in Biometrics: from Feasibility Study to Application
L. Benedikt, D. Cosker, P. Rosin and D. Marshall
Proceedings of the IEEE Second International Conference on Biometrics: Theory, Applications and Systems
Best Paper of Conference Nomination, Best Student Paper of Conference Award
Washington D.C, USA, 29 Sept.-Oct.1, 2008

Automatic Audio Driven Animation of Non-Linguistic Vocalisations
D. Cosker, C. Holt, D. Mason, G. Whatling, D. Marshall and P. L. Rosin
In Proc. of 8th International Symposium on Computer Methods in Biomechanics and Biomedical Engineering (CMBBE 2008), Porto, Portugal, 27th February-1st March, 2008. (Poster)
There is various press about this work, including a report on the New Scientist website.

Three-dimensional motion analysis - an exploratory study. Part 1: Assessment of facial movement
H. Popat, S. Richmond, R. Playle, D. Marshall, P.L. Rosin and D. Cosker
Orthodontics and Craniofacial Research, Vol. 11, pp. 216-223, 2008.

Three-dimensional motion analysis - an exploratory study. Part 2. Reproducibility of facial movement
H. Popat, S. Richmond, R. Playle, D. Marshall, P.L. Rosin and D. Cosker
Orthodontics and Craniofacial Research, Vol. 11, pp. 224-228, 2008.

Generating Human Interactive Behaviours using the Windowed Viterbi Algorithm
Y. Zheng, Y. Hicks, Darren Cosker, D. Marshall
Proceedings of International Conference on Computer Graphics Theory and Applications (GRAPP) 2008, pp 353-358,
Madeira - Portugal, January 22-25, 2008

2007

New methods for preparing, imaging and typifying desmids (Chlorophyta, Zygnematophyceae), including extended depth of focus and 3-D reconstruction
Davis G. Mann, Micha M. Bayer, Stephen J.M. Droop, Yulia A. Hicks, David Marshall, Ralph R. Martin and Paul L. Rosin
Phycologia Volume 46 (1), pp29-45, (2007)

Robust automatic data decomposition using a modified sparse NMF
O. Samko, P. L. Rosin and A. D. Marshall
Mirage 2007 - Computer Vision/Computer Graphics Collaboration Techniques and Applications
INRIA Rocquencourt, France, March 28-30,
LNCS vol. 4418, pp. 225-234, 2007.

Re-mapping Animation Parameters between Multiple Types of Facial Model
Darren Cosker, Stephen Roy, Paul Rosin and David Marshall
Mirage 2007 - Computer Vision/Computer Graphics Collaboration Techniques and Applications
INRIA Rocquencourt, France, March 28-30,
LNCS vol. 4418, pp. 365-376, 2007.

Evaluating facial growth from 12-15 years of age: mapping facial change.
Richmond S, Hartles F, 1 Kau CH, Popat H, Zhurov AI, Drage N, Bryant J, Marshall D, Rosin P, Cosker D.
Computer methods in biomechanics and bioengineering, Ed Middleton J. and Shrive NG and Jones ML.
ISBN 0-9549670-0-3 (2007)

Improving Accuracy and Efficiency of Registration by Mutual Information using Sturges Histogram Rule
P. Legg, P.L. Rosin, D. Marshall and J.E. Morgan
Proc. Medical Image Understanding and Analysis,
University of Aberystwyth 17-18, July
pp. 26-30, 2007. (paper) (poster)

Towards Efficient 3D Facial Appearance Models,
K. Sidorov, D. Marshall, P. Rosin and S. Richmond
ACM SIGGRAPH/Eurographics Symposium on Computer Animation SCA 2007
August 3-4, San Diego, 2007.

Using Dynamic 3D Facial Data to Create 3D Appearance Models of Facial Action Units L. Benedikt, E. Krumhuber, A. Calvert, D. Cosker, P. Rosin and D. Marshall
ACM SIGGRAPH/Eurographics Symposium on Computer Animation SCA 2007
August 3-4, San Diego, 2007.

Facial Dynamics as Indicators of Trustworthiness and Cooperative Behavior
Eva Krumhuber, Antony S. R. Manstead, Darren Cosker, Dave Marshall, Paul L. Rosin and Arvid Kappas,
Emotion, Vol. 7, No. 4,
pp 730-735, 2007
ISSN 1528-3542

2006

Selection of the optimal parameter value for the Isomap algorithm
O. Samko, P. Rosin and D. Marshall
Pattern Recognition Letters 27, pp 968-979, 2006

A New DCT-based Multiresolution Method for Simultaneous Denoising and Fusion of SAR Images
D. Radford, A. Kurekin, D. Marshall, and K. Lever
ISIF and IEEE Information Fusion 2006 Conference, Florence, Italy, July, 2006

Assessment of Soil Parameter Estimation Errors for Fusion of Multichannel Radar Measurements
A. Kurekin, D. Marshall, D. Radford, K. Lever and G. Kulemin
ISIF and IEEE Information Fusion 2006 Conference, Florence, Italy, July, 2006

Joint Tracking and Classification of Airborne Objects using Particle Filters and the Continuous Transferable Belief Model
G. Powell, D. Marshall, P. Smets, B. Ristic and S. Maskell
ISIF and IEEE Information Fusion 2006 Conference, Florence, Italy, July, 2006

Smile authenticity and trustworthiness in a one-shot trust game
Eva Krumhuber, Antony S. R. Manstead, Darren Cosker, David Marshall, and Paul. L. Rosin
Second European Conference on Emotion, Louvain-La-Neuve, Belgium, May 18-20, 2006

Speech and Expression Driven Animation of a Video-Realistic Appearance Based Hierarchical Facial Model Extended Abstract,Workshop Poster
David Marshall, Darren Cosker, Paul L. Rosin and Yulia Hicks
IEEE CVPR Workshop on Learning, Representation and Context for Human Sensing in Video, June 22nd 2006, New York

3D Facial Image Recognition Using a Nose Volume and Curvature Based Eigenface PDF (Springer LNCS Access required)
Yeunghak Lee, Ikdong Kim, Jaechang Shim and David Marshall
Proceedings of Geometric modelling and Processing - GMP 2006: 4th International Conference, Pittsburgh, PA, USA, July 26-28
Lecture Notes in Computer Science, Volume 4077, pp. 616 - 622, Springer.
ISSN: 0302-9743

A model of diatom shape and texture for analysis, synthesis and identification Online PDF Version (SpringerLink Access required)
Y.A. Hicks, D. Marshall, P.L. Rosin, R.R. Martin, D.G. Mann and S.J.M. Droop,
Machine Vision and Applications, vol. 17, no. 5, pp.297-307, 2006.
ISSN: 0932-8092 (Print) 1432-1769 (Online)

Virtual Friend: Tracking and Generating Natural Interactive Behaviours in Real Video (PDF)
Yue Zheng, Yulia Hicks, Darren Cosker, Dave Marshall, Juan C. Mostaza and Jonathon A. Chambers
8th International Conference on Signal Processing. ICSP 2006. Nov. 16-20, 2006, Guilin, CHINA
ISBN 0-7803-9737-1

Real Time Multi Camera 3D Tracking System
K. Sidorov, Y. Hicks, D. Marshall, S. Sanei, J. Chambers
Proceedings of The 3rd European Conference on Visual Media Production (CVMP 2006)
London, 29-30 November 2006

Generating 3D Interactive Behaviours
Y. Zheng, Y. Hicks, Darren Cosker, D. Marshall and J. Chambers
Proceedings of The 3rd European Conference on Visual Media Production (CVMP 2006)
London, 29-30 November 2006

Discovering Realistic Facial Dynamics for Animation
Darren Cosker, Eva Krumhuber, Antony S. R. Manstead, David Marshall, and Paul. L. Rosin
Proceedings of The 3rd European Conference on Visual Media Production (CVMP 2006)
London, 29-30 November 2006

2005

Mitigation of Image Impairments for Multichannel Remote Sensing Data Fusion
A. Kurekin, A. Dolia, D. Marshall, V. Lukin and K. Lever
SPIE Defense and Security Symposium, Orlando, Florida, USA, March, 2005.

Towards Perceptually Realistic Talking Heads: Models, Metrics and McGurk
D. Cosker, S. Paddock, D. Marshall, P. L. Rosin and S. Rushton
ACM Transactions on Applied Perception, vol 2. no 3, 2005.

Synthetic humans for the study of subtle temporal aspects in facial displays
E. Krumhuber, D. Cosker, A. Manstead, D. Marshall and P. Rosin
IXth Conference of the International Society for Research on Emotions, Bari, Italy, July 2005.

Temporal dynamics of smiling: Human versus synthetic faces
E. Krumhuber, D. Cosker, A. Manstead, D. Marshall and P. Rosin
IXth Conference of the International Society for Research on Emotions, Bari, Italy, July 2005

Video assisted speech source separation A. Aubrey, J. A. Chambers, Y. Hicks, S. Sanei, D. Marshall,
Proceedings of ICA meeting, pp 425-428, London 2005.

Mitigation of Sensor and Communication System Impairments for Multichannel Image Fusion and Classification
A. Kurekin, D. Marshall, D. Radford, K. Lever and A. Dolia
ISIF and IEEE Information Fusion 2005 Conference, Philadelphia, USA, July, 2005.

Robust Processing of SAR Hologram Data to Mitigate Impulse Noise Impairments
A. Kurekin, D. Marshall, D. Radford, K. Lever and v. Lukin
ISIF and IEEE Information Fusion 2005 Conference, Philadelphia, USA, July, 2005.

Joint Tracking And Classification of Nonlinear Trajectories of Multiple Objects Within the Transferable Belief Model (TBM) Multi-Sensor Fusion Framework
G. Powell and D. Marshall
ISIF and IEEE Information Fusion 2005 Conference, Philadelphia, USA, July, 2005.

Temporal aspects of smiles influence employment decisions: A comparison of human and synthetic faces
E. Krumhuber, D. Cosker, A. Manstead, D. Marshall and P. Rosin
11th European Conference Facial Expressions: Measurement and Meaning, Durham, United Kingdom (September 2005).

Markerless motion capture with a single video camera
Y. Hicks, C.A. Holt and D. Marshall
Proceedings Salford's 3rd. International Conference on Biomechanics of the Lower Limb in Health, Disease and Rehabilitation (2005)

2004

Choosing Consistent Constraints for Beautification of Reverse Engineered Geometric Models
F. C. Langbein, A. D. Marshall, R. R. Martin
Computer Aided Design 36 (3), 261-278, 2004. ISSN: 0010-4485

Topological and Geometric Beautification of Reverse Engineered Geometric Models
F. C. Langbein, C. H. Gao, B. I. Mills, A. D. Marshall and R. R. Martin
Proceedings of SM04: ACM Symposium on Solid modelling and Applications
Genova, Italy, June 9-11, 2004

A Data Fusion System for Object Recognition based on Transferable Belief Models and Kalman Filters
G. Powell, D. Marshall, R. Milliken and K. Markham
Proceedings of Seventh International Conference on Information Fusion (Fusion 2004)
Stockholm, Sweden, June 28-July 1, 2004

Towards Perceptually Realistic Talking Heads: Models, Methods and McGurk
D. Cosker, D. Marshall, P. L. Rosin, S. Paddock and S. Rushton
First Symposium on Applied Perception in Graphics and Visualization (ACM SIGGRAPH Workshop)
Los Angeles, California, USA, August 7-8, pp 151-158, 2004, 2004. ISBN 1-58113-914-4 (PDF, Powerpoint Slides)

Speech Driven Facial Animation using a Hidden Markov Coarticulation Model
D. Cosker, D. Marshall, P. Rosin and Y. Hicks
Proceeding of Seventeenth International Conference on Pattern Recognition (ICPR2004)
Cambridge, UK, 23-26 August, pp 128-131, ISBN 0-7695-2128-2, 2004

Speech Driven Facial Animation using a Hierarchical Model
D. Cosker, D. Marshall, P. Rosin and Y. Hicks
IEE Proceedings on Vision, Image and Signal Processing, Vol. 151 (4)
pp 314-321, 2004, ISBN: 1350-245X

Local Topological Beautification of Reverse Engineered Models
C. H. Gao, F. C. Langbein, A. D. Marshall, R. R. Martin
Computer Aided Design, Vol: 36 (13), pp 1337-1355, 2004. ISSN: 0010-4485

Building Shape and Texture Models of Diatoms for Analysis and Synthesis of Drawings and Identification
Y.A.Hicks, A.D.Marshall, R.R.Martin, P.L.Rosin, S.Droop, D.Mann,
Proceedings of the Irish Machine Vision Conference
Eds: K.Dawson-Howe, A.C. Kokaram and F.Shevlin University of Dublin Trinity College, September 1-3, 2004. pp 26-33.
Best paper award

Partial Approximate Symmetry Detection of Geometric Model
C.H. Gao, F. Langbein, D. Marshall, R. Martin, Y. Li and Z. Yang
Materials Science Forum Vols. 471-472, pp 702-706, 2004. ISSN: 0255-5476

2003

Video Realistic Talking Heads Using Hierarchical Non-Linear Speech-Appearance Models
Darren Cosker, David Marshall, Paul Rosin and Yulia Hicks
Proceedings of Mirage 2003, INRIA Rocquencourt, France, March, 10-11 2003, pp 20-27, ISBN 2-7621-1240

Greenfields: An Educational Interactive Rural Town Planning Simulator
Robert Flook, Richard Staniforth, Aled Richards and David Marshall
Proceedings of EDMEDIA2003 - World Conference on Educational Multimedia and Hypermedia
Honolulu, Hawaii, USA, 23-28 June, 2003. pp 757-760, ISBN: 380094-48-7

An Interactive Demo of the Greenfields Rural Town Planning Simulator
Robert Flook, Richard Staniforth, Aled Richards and David Marshall
Proceedings of EDMEDIA2003 - World Conference on Educational Multimedia and Hypermedia
Honolulu, Hawaii, USA, 23-28 June, 2003. pp 756-757, ISBN: 380094-48-7

Data Fusion of FLIR and LADAR in Autonomous Weapons Systems
Gavin Powell, David Marshall Richard Milliken and Keith Markham
Proceedings of Sixth International Conference onf Information Fusion (Fusion 2003)
Cairns, Australia, July 8-11, 2003. pp 350-357, ISBN: 0-9721844-3-0

Speaker Independent Speech Driven Facial Animation Using A Hierarchical Facial Model
D. Cosker, D. Marshall, P. Rosin and Y. Hicks
Proceedings of Visual Information Engineering - VIE2003
July, 2003, Univ. of Surrey, UK. pp 169-172, ISBN 0-85296-757-8

A method to add Hidden Markov Models with application to learning articulated motion
Yulia Hicks, Peter Hall and David Marshall
Proceedings of British Machine Vision Conference 2003, 8-11 Sept, 2003 Norwich, UK, pp 489-498 ISBN 1-901725-23-5

Choosing Consistent Constraints for Beautification of Reverse Engineered Geometric Models
F. C. Langbein, A. D. Marshall, and R. R. Martin
Computer Aided Design,Vol 36 No. 3 pp 261-278, 2003.
ISSN: 0010-4485

Approximate Congruence Detection of Model Features for Reverse Engineering
C. H. Gao, F. C. Langbein, A. D. Marshall, R. R. Martin
Proc. Shape modelling International 2003, Ed. M.-S. Kim, 69-77,
IEEE Computer Society, 2003.
ISBN 0-7695-1909-1

Evaluation of algorithms for the automated registration of scanning laser tomographic and photographic images
J.E. Morgan,P. Rosin, D. Marshall, J.M. Wild, R.V. North,
Invest Ophthalmol Vis Sci 2003;44:ARVO E-Abstract 3398.

2002

Computer Science, (Chapter in Book),
David Marshall,
Handbook on Information Technologies For Education and Training,
Eds. H.H. Adelsberger, B. Collis and J.M. Pawlowski,
pp 425-448, Springer,
ISBN 3-540-67803-4, 2002.

Numerical Methods for Beautification of Reverse Engineered Geometric Models,
F. C. Langbein, A. D. Marshall, R. R. Martin
Geometric modelling and Processing, Proc. GMP 2002, Eds. H. Suzuki, R. R. Martin,
pp 159-168, IEEE Press, 2002.

Tracking People in Three Dimensions Using a Hierarchical Model of Dynamics
Y Hicks, P.M. Hall and A.D. Marshall
Image and Vision Computing Volume 20, Issues 9-10, 1 August 2002, Pages 691-700 ISSN: 0262-8856

Modelling life cycle related and individual shape variation in biological specimens
Y.A. Hicks, A.D. Marshall, R.R. Martin, P.L. Rosin, M.M. Bayer and D.G. Mann,
Proceedings of the British Machine Vision Conference 2002 (BMVC2002),
Sept 2-5, Cardiff, Wales, Volume 1, pp 323-332, ISBN 1-901725-19-7

Automatic Landmarking for Building Biological Shape Models
Y. Hicks, D. Marshall, R.R. Martin, P.L. Rosin M.M. Bayer and D.G. Mann
Proceedings of the 2002 IEEE International Conference on Image Processing (ICIP 2002),
September 22-25, 2002, Rochester, NY, USA
Vol II, pp 801-804
ISBN 0-7803-7622-6 (Proceedings), ISBN 0-7803-7623-4 (CDROM)

Multimodal Retinal Imaging: New Strategies for the Detection of Glaucoma
Paul L. Rosin, David Marshall and James E. Morgan
Proceedings of the 2002 IEEE International Conference on Image Processing (ICIP 2002),
September 22-25, 2002, Rochester, NY, USA
Vol III, pp 137-141
ISBN 0-7803-7622-6 (Proceedings), ISBN 0-7803-7623-4 (CDROM)

Extended Depth-of-Focus Algorithms in Brightfield Microscopy,
Antonio G. Valdecasas, David Marshall and Jose M. Becerra,
Microscopy and Analysis,
September 2002, pp 9-17, ISSN 0958-1952

A Prototype Store Choice and Location Modelling System using Dempster-Shafer Theory
Malcolm Beynon, Benjamin Griffiths and David Marshall,
ESYS: Expert Systems - The International Journal of Knowledge Engineering, Blackwell Publishers Ltd, Oxford, UK
pp 273-284, November issue, Vol. 19, No. 5, 2002. ISSN 0266-4720

Adding and subtracting eigenspaces with eigenvalue decomposition and singular value decomposition,
P.M. Hall, A.D. Marshall and R.R. Martin,
Hall, P., Marshall, D. and Martin, R. Image and Vision Computing, Volume 20, Issues 13-14, December 2002, pp 1009-1016 ISSN: 0262-8856

2001

Robust Segmentation of Primitives from Range Data in the Presence of Geometric Uncertainty
A. D. Marshall , G. Lukacs, R. R. Martin
IEEE PAMI 23 (3) 304-314, 2001.
ISSN 0162-8828


On the Extended Depth of Focus Algorithms for Bright Field Microscopy,
A. Valdecasas, A.D. Marshall, J. M. Becerra and J. J. Terrero,
Micron, Volume 32, Issue 6, pp 559-569, August 2001.
ISSN:0968-4328


Detecting Approximate Shape Regularities to Improve Reverse Engineered Solid Models
F. C. Langbein, B. I. Mills, A. D. Marshall, R. R. Martin,
Proceedings of International Conference On Shape Modelling And Applications(SMI2001) Instituto per la Matematica Applicata, Consiglio Nazionale delle Ricerche Genova, Italy, 7-12 MAY 200, IEEE Comp. Press.


An Expert System for Multi-Criteria Decision Making using Dempster Shafer Theory,
Malcolm Beynon, Darren Cosker, David Marshall,
Expert Systems with Applications,Vol. 20, No. 4, pp 357-367, June 2001


Approximate Symmetry Detection For Reverse Engineering
B. I. Mills F. C. Langbein A. D. Marshall R. R. Martin
Proceedings of Sixth ACM Symposium on Solid modelling and Applications (Solid modelling '01) Ann Arbor, Michigan, USA, June 04-08, 2001.


Finding Approximate Shape Regularities In Reverse Engineered Solid Models Bounded By Simple Surfaces
F. C. Langbein B. I. Mills A. D. Marshall R. R. Martin
Proceedings of Sixth ACM Symposium on Solid modelling and Applications (Solid modelling '01)
Ann Arbor, Michigan, USA, June 04-08, 2001.


Approximate Geometric Regularities F. C. Langbein, B. I. Mills, A. D. Marshall, R. R. Martin
International Journal of Shape modelling, 7 (2), pp 129-162, 2001


Finding Approximate Shape Regularities for Reverse Engineering
F. C. Langbein, B. I. Mills, A. D. Marshall, R. R. Martin
Journal of Computing & Information Science in Engineering 1 (4), pp 282-290, 2001.


2000

Simulation of FLIR and LADAR Data using Graphics Animation Software
G. Powell, R. R. Martin, A. D. Marshall, K. Markham
Proc. Pacific Graphics 2000, Eds. B. Barsky, Y. Shinagawa, W. Wang, 126-134, IEEE Computer Society Press, 2000
ISBN 0 7695 0868 5


Simulation of laser detection and ranging (LADAR) and forward-looking infrared (FLIR) data for autonomous tracking of airborne objects
Gavin Powell, Keith C. Markham, David Marshall
Proc. SPIE Vol. 4026, Conf. on Enabling Technology for Simulation Science IV; Alex F. Sisti; Ed. ,
pp 79-88,Jun 2000,

Merging and Splitting Eigenspace Models
P. M. Hall, A. D. Marshall, R. R. Martin
IEEE PAMI 22 (9) 1042-1049, 2000
ISSN 0162-8828


A Hierarchical Model for Tracking People with a Single Video Camera
J. Karauvola, P.M. Hall and A.D. Marshall
Proc. British Machine Vision Conference (BMVC'2000), Vol.1, Bristol, England.
pp352-361
ISBN 1-901725-13-8. Best Demonstration Paper Award

1999

Developing Interactive Courseware on the World Wide Web
A.D. Marshall
Journal of Innovations in Education and Training International (IETI)
Vol 36, No. 1, pp 34-43,
February 1999.
ISSN 1355 8005

Automated Coursework Assessment over the Internet
R.D. Moore and A.D. Marshall
Proceedings of ED-MEDIA 99 - World Conference on Educational Multimedia and Hypermedia, June 19-24, Seattle, USA, pp 646-651, ISBN 1-880095-35-5, AACE, 1999. Outstanding paper Award

Extended Depth of Focus Images for Taxonomy,
A.G. Valdecasas and A.D. Marshall
The Systematics Association Biennial Conference, 23-27 Aug 1999, University of Glasgow

Adding and Subtracting Eigenspaces
P.M. Hall, A.D. Marshall and R.R. Martin
Proceedings of the 10th British Machine Vision Conference, 13-17 Sept. 1999, Univ. of Nottingham.
pp 453-462 ISBN 1-901725-09-X.

1998

Faithful least-squares fitting of spheres, cylinders, cones and tori for reliable segmentation,
G. Lukacs, A.D. Marshall and R.R. Martin
ECCV98 - Proceedings of the 5th European Conference on Computer Vision, 2-6 June, Freiburg, Germany, 1998.
Vol 1, pp 671-686.
Eds. H. Burkardt, B. Neumann.
(Lecture Notes in Computer Science; Vol. 1406)
ISBN 3-540-64569-1, 1998.

Using the Internet to Teach the Internet
A.D. Marshall
Proceedings of the 6th Annual Conference on the Teaching of Computing / 3rd Annual Conference on Integrating Technology into Computer Science Education -ITiCSE '98
18th - 21st August 1998 Dublin, Ireland.

Articulated Model Estimation from Video Sequences
J.A. Karulova, P.M. Hall and A.D. Marshall, IEE Workshop on Computer Vision and Vitual Human Modelling, 9 July, 1998, London

Viewpoint Selection for Complete Surface Coverage of Three Dimensional Objects
D.R. Roberts and A.D. Marshall
Proceedings of the British Machine Vision Conference - BMVC 98, Sept 1998. Southampton
Vol. 2, pp 740-750,
Eds. P.H. Lewis and M.S.Nixon,
ISBN 1-901725-04-9, 1998

Incremental Eigenanalysis for Classification
P.M. Hall, A.D. Marshall and R.R. Martin
Proceedings of the British Machine Vision Conference - BMVC 98, Sept 1998.
Vol. 1, pp 286-295,
Eds. P.H. Lewis and M.S.Nixon,
ISBN 1-901725-04-9, 1998

Interactive Courseware Development for the WWW
A.D. Marshall
Invited Presentation at the CTI Computing workshop on "Effective Use of the WWW in the Teaching of Computing"
Issue 11 of Monitor, Winter 1998/99, pp 5-10, ISSN 0961-3757

1998

Faithful least-squares fitting of spheres, cylinders, cones and tori for reliable segmentation,
G. Lukacs, A.D. Marshall and R.R. Martin
ECCV98 - Proceedings of the 5th European Conference on Computer Vision, 2-6 June, Freiburg, Germany, 1998.
Vol 1, pp 671-686.
Eds. H. Burkardt, B. Neumann.
(Lecture Notes in Computer Science; Vol. 1406)
ISBN 3-540-64569-1, 1998.

Using the Internet to Teach the Internet
A.D. Marshall
Proceedings of the 6th Annual Conference on the Teaching of Computing / 3rd Annual Conference on Integrating Technology into Computer Science Education -ITiCSE '98
18th - 21st August 1998 Dublin, Ireland.

Articulated Model Estimation from Video Sequences
J.A. Karulova, P.M. Hall and A.D. Marshall, IEE Workshop on Computer Vision and Virtual Human Modelling, 9 July, 1998, London

Viewpoint Selection for Complete Surface Coverage of Three Dimensional Objects
D.R. Roberts and A.D. Marshall
Proceedings of the British Machine Vision Conference - BMVC 98, Sept 1998. Southampton
Vol. 2, pp 740-750,
Eds. P.H. Lewis and M.S.Nixon,
ISBN 1-901725-04-9, 1998

Incremental Eigenanalysis for Classification
P.M. Hall, A.D. Marshall and R.R. Martin
Proceedings of the British Machine Vision Conference - BMVC 98, Sept 1998.
Vol. 1, pp 286-295,
Eds. P.H. Lewis and M.S.Nixon,
ISBN 1-901725-04-9, 1998

Interactive Courseware Development for the WWW
A.D. Marshall
Invited Presentation at the CTI Computing workshop on "Effective Use of the WWW in the Teaching of Computing"
Issue 11 of Monitor, Winter 1998/99, pp 5-10, ISSN 0961-3757

1997

Tracking Targets in FLIR Images by Region Template Correlation--- gzipped file
H.S. Parry, A.D. Marshall and K. Markham
Proceedings of SPIE Vol. 3086, Acquisition, Tracking, and Pointing, Ed. M.K. Masten and L.A. Stockum,
SPIE AEROSENSE Conference, 23-24 April, Orlando, Florida, U.S.A, pp 221-232, 1997, ISBN 0-8194-2501-X.

Extending the Availability of Microscope Type Material for Taxonomy and Research
A.G. Valdecasas, J.M. Becerra and A.D. Marshall
Trends in Ecology and Evolution, Vol. 12 No. 6, pp 211-213, June 1997, Elsevier Science Ltd, ISSN 0169-5347.

Courseware Development for Parallel Computing and C Programming --- gzipped version
A.D. Marshall and S. Hurley
Proceedings of ED-MEDIA 97 - World Conference on Educational Multimedia and Hypermedia, June, Calgary, Cananda, 1997, pp 689-697, ISBN 1-880094-26-6

Supporting Lectures via the World Wide Web
A.D. Marshall
5th Annual Conference on the Teaching of Computing , Dublin City University, September 1997, pp 148-151.

Data Reduction for Reverse Engineering
R. R. Martin, I. A. Stroud, A. D. Marshall
Mathematics of Surfaces VII, Ed. T. N. T. Goodman and R. R. Martin, pp 85-100, Information Geometers Ltd., 1997. (ISBN 1-874728-12-7).

Geometric least-squares fitting of spheres, cylinders, cones and tori,
G. Lukacs, A.D. Marshall and R.R. Martin,
RECCAD Deliverable Documents 2 and 3 Copernicus Project No. 1068 Reports on basic geometry and geometric model creation, etc. Edited by Dr. R. R. Martin and Dr. T. Varady Report GML 1997/5, Computer and Automation Institute, Hungarian Academy of Sciences, Budapest, 1997. Download paper here

1996

A Strategy for Complete Inspection of Three-dimensional Objects by Active Stereo Computer Vision
D.R. Roberts and A.D. Marshall
IEEE Workshop of Robotics and Automated Manufacture, Salford University, April 1996, U.K.

The Design and Provision of Software Engineering Education over the Web
F. Culwin and A.D. Marshall,
Proceedings of the 5th International WWW Conference '96,
Paris, May, 1996.

The Design, Development and Evaluation of Hypermedia Courseware for the World Wide Web --- gzipped file
A.D. Marshall and S. Hurley,
Journal of Multimedia and its Applications,
Vol. 3 No. 1, pp 5-31, July 1996.
pp 5-33, ISSN 1380-7501

Interactive Hypermedia Courseware for the World Wide Web
A.D. Marshall and S. Hurley,
Proceedings of ACM SIGCSE/SIGCUE Conference, 2-5th June, Barcelona, Spain, 1996.

Hypertext-based Courseware Delivery Methods for the World Wide Web --- gzipped version
A.D. Marshall and S. Hurley,
Proceedings of ED-MEDIA 96 - World Conference on Educational Multimedia and Hypermedia, June, Boston, USA, 1996. Outstanding Paper Award

Assessing Multimedia-based Courseware --- gzipped version
A.D. Marshall and S. Hurley,
Proceedings of ED-MEDIA 96 - World Conference on Educational Multimedia and Hypermedia, June, Boston, USA, 1996.

Multimedia Delivery of Courseware on the World Wide Web
A.D. Marshall and S.Hurley,
4th Annual Conference on the Teaching of Computing , Dublin City University, September 1996, pp 33-37.

Region Template Correlation for FLIR Target Tracking
H.S. Parry, A.D. Marshall and K. Markham
BMVC96 - The British Machine Vision Conference, 9-12 September, Edinburgh, U.K. pp 495-504;ISBN 0-9521898-3-6,1996.

Delivering Hypertext-based Courseware on the World-Wide-Web
A.D. Marshall and S. Hurley
Journal of Universal Computer Science, Vol. 2 No. 12, December 1996, pp 805 - 828, ISSN 0948-6912.

Issues in building B-rep solid models from range data
A.D. Marshall and R.R. Martin
British Machine Vision Association Meeting on "Three-Dimensional Vision", 11 Dec. 1996, London.


1995:

Developing Hypertext Courseware on the World Wide Web,
A.D. Marshall,
Proceedings of ED-MEDIA 95 - World Conference on Educational Multimedia and Hypermedia, June 18-21, Graz, Austria, 1995. Outstanding Paper Award

Hypertext-based Multimedia Courseware,
A.D. Marshall,
Workshop presentation for 3rd Annual Conference on the Teaching of Computing, Dublin City University, September 1995.

Hypertext-based Courseware Delivery Methods for the World Wide Web,
A.D. Marshall and S.Hurley,
3rd Annual Conference on the Teaching of Computing , Dublin City University, September 1995, pp 161-169.

An Assessment of Hypertext-based Courseware,
A.D. Marshall and S.Hurley,
3rd Annual Conference on the Teaching of Computing , Dublin City University, September 1995, pp 154-160.

"Integration of Segmentation Information and Correlation Technique for Tracking Objects in Sequences of Images",
H.S. Parry, A.D. Marshall and K.C. Markham,
SPIE Videometrics IV Conference, Photonics East '95, Philadelphia, USA, pp 208-219, 1995.

Automatically planning the inspection of three-dimensional objects using stereo computer vision, ( Alternative Link)
A.D. Marshall and D.R.Roberts
SPIE Three-dimensional Imaging and Laser-based Systems for Metrology and Inspection Conference, Photonics East '95, Philadelphia, USA, pp 94-105, Oct. 1995, ISBN 0-81-94-1963-X.

Fusing multiple sources with Bayesian networks to achieve accurate object descriptions,
S.J. Davies, A.D. Marshall and R.R. Martin,
SPIE Conference on Sensor Fusion and Networked Robotics at Intelligent Systems and Advance Manufacturing Photonics East '95, Philadelphia, USA, pp 79-90, October 1995.

Computer Vision on the World Wide Web,
A.D. Marshall,
SPIE Conference on Machine Vision Applications, Architectures, and Systems Integration IV at Intelligent Systems and Advance Manufacturing Photonics East '95, Philadelphia, USA, pp 18-31, October 1995.


1994:
Novel Uses of Computers for Teaching Computing
A. D. Marshall, S. Hurley, S. N. McIntosh-Smith, R. R. Martin, N. M. Stevens
AXIS 1 (3) 30-41, 1994.

Courseware on the Internet and the World Wide Web
A. D. Marshall, S. Hurley, S. N. McIntosh-Smith, R. R. Martin, N. M. Stevens
Online Information 94 Proceedings, Eds D. I. Raitt, B. Jeapes, 341-256,
Learned Information (Europe) Ltd, 1994.

Courseware on the Cardiff Information Server
A. D. Marshall, S. Hurley, S. N. McIntosh-Smith, R. R. Martin, N. M. Stevens
Proc. 2nd All Ireland Conference on the Teaching of Computing, Dublin

Courseware for Parallel Computing using Mosaic and the World Wide Web,
S. Hurley, A.D. Marshall, S.N. McIntosh-Smith and N.M. Stephens,
Proceedings of the 2nd International WWW Conference '94, Volume I, pp 499-508, Chicago, USA, October 1994.

Hypertext-based Computer Vision Teaching Packages,
A.D. Marshall,
Proceedings of SPIE Conference on Machine Vision Applications, Architectures, and Systems Integration III, pp 207-219, Boston USA, October 1994

1993:
3-D Model Based Matching for Automatic Inspection from Depth Data
A. D. Marshall, R. R. Martin
Robotics: Applied Mathematics and Computational Aspects, Ed. K. Warwick, 213-234,
Oxford University Press.

Qualitative and Quantitative Techniques for 3-D Shape Inspection of Industrial Artifacts
B. G. Batchelor, A. D. Marshall, R. R. Martin
Machine Vision Applications, Architectures and Systems Integration II,
Ed. B. G. Batchelor, S. S. Solomon, F. M. Waltz, 325-335, SPIE Procs. Vol. 2064.


Accurate Segmentation using Multiple Sources and Bayesian Networks
S. J. Davies, A. D. Marshall, R. R. Martin
Sensor Fusion VI, Ed. P. S. Schenker, 396-406, SPIE Procs. Vol. 2059.

Using Stereo Vision to Automatically Inspect Three-Dimensional Geometric Features
A. D. Marshall, R. R. Martin
Journal of Design and Manufacture 3 (3), pp 279-291.

Inspection Methods for Geometric and Symbolic Shape Features
B. G. Batchelor, A. D. Marshall, R. R. Martin
Computer Vision for Industry, Ed. D. W. Braggins, 158-172, SPIE Vol 1989.

1992:
Automated Inspection using Computer Vision
A. D. Marshall, R. R. Martin
Proc. Sunderland Advanced Manufacturing Technology 92 Conference,
Sunderland Polytechnic, April 1992, pp 16.6.1-16.6.8.

Automatic Inspection of Three-Dimensional Geometric Features
A. D. Marshall, R. R. Martin
Concurrent Engineering '92, Ed. D. Dutta et al, 53-67, ASME Press.

Accurate Estimation of Surface Properties by Integrating Information using Bayesian Networks
S. J. Davies, A. D. Marshall, R. R. Martin
Sensor Fusion V, Ed. P. S. Schenker, SPIE Procs. Vol. 1828.

1991:

Automatic Inspection of Mechanical Parts Using Geometric Models and Laser Range Finder Data.
A. D. Marshall, R. R. Martin
Image and Vision Computing 9 (6) 385-405.


1990:

"Automatically inspecting gross features of machined objects using three-dimensional depth data",
A.D. Marshall,
Proceedings of SPIE OE/BOSTON '90 Conference 1386 Machine Vision Systems Integration in Industry, 4-9 November 1990, Boston Massachusetts USA


---
Back to David Marshall's Home Page