Next:
Editing Frames
Up:
Multimedia Programming:Scripting (Lingo)
Previous:
Lingo
Markers identify fixed locations at a particular frame in a movie. Markers are vital to navigation in movies. Using Lingo or draggable behaviors, you can instantly move the playback head to any marker frame.
This is useful when jumping to new scenes from a menu or looping while cast members download from the web. Markers are also useful while authoring to advance quickly to the next scene.
Once you've marked a frame in the Score, you can use the marker name in your behaviors or scripts to refer to exact frames. Marker names remain constant no matter how you edit the Score. They are more reliable to use as navigation references than frame numbers, which can change if you insert or delete frames in the Score.
Use the Markers window to write comments associated with markers you set in the Score and to move the playback head to a particular marker.
To create a marker:
Click the markers channel to create a marker. A text insertion point appears to the right of the marker.
Type a short name for the marker.
To delete a marker:
Drag the marker up or down and out of the markers channel.
To jump to markers while authoring:
There are a few ways to do this:
Click the Next and Previous Marker buttons on the left side of the marker channel.
Press the 4 and 6 keys on the numeric keypad to cycle backward and forward through markers.
Choose the name of a marker from the Markers menu.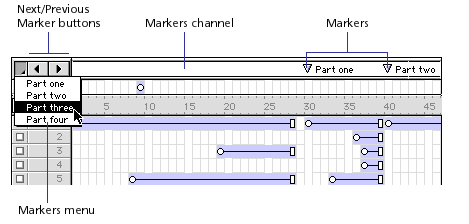 Macromedia Director Markers
---
Next:
Editing Frames
Up:
Multimedia Programming:Scripting (Lingo)
Previous:
Lingo
Dave Marshall
10/4/2001