Next:
Inter-frame (P-frame) Coding
Up:
H. 261 Compression
Previous:
Overview of H.261
The term intra frame coding refers to the fact that the various lossless and lossy compression techniques are performed relative to information that is contained only within the current frame, and not relative to any other frame in the video sequence. In other words, no temporal processing is performed outside of the current picture or frame. This mode will be described first because it is simpler, and because non-intra coding techniques are extensions to these basics. Figure 1 shows a block diagram of a basic video encoder for intra frames only. It turns out that this block diagram is very similar to that of a JPEG still image video encoder, with only slight implementation detail differences.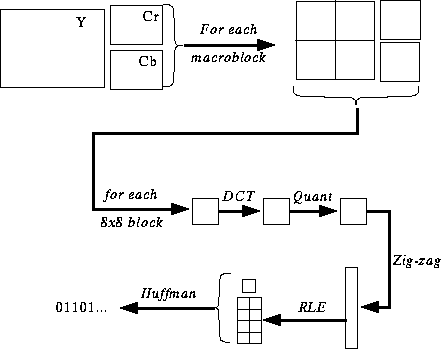 The potential ramifications of this similarity will be discussed later. The basic processing blocks shown are the video filter, discrete cosine transform, DCT coefficient quantizer, and run-length amplitude/variable length coder. These blocks are described individually in the sections below or have already been described in JPEG Compression.

This is a basic Intra Frame Coding Scheme is as follows:
Macroblocks are 16x16 pixel areas on Y plane of original image.

A macroblock usually consists of 4 Y blocks, 1 Cr block, and 1 Cb block.

In the example HDTV data rate calculation shown previously, the pixels were represented as 8-bit values for each of the primary colors ­ red, green, and blue. It turns out that while this may be good for high performance computer generated graphics, it is wasteful in most video compression applications. Research into the Human Visual System (HVS) has shown that the eye is most sensitive to changes in luminance, and less sensitive to variations in chrominance. Since absolute compression is the name of the game, it makes sense that MPEG should operate on a color space that can effectively take advantage of the eye¹s different sensitivity to luminance and chrominance information. As such, H/261 (and MPEG) uses the YCbCr color space to represent the data values instead of RGB, where Y is the luminance signal, Cb is the blue color difference signal, and Cr is the red color difference signal.

A macroblock can be represented in several different manners when referring to the YCbCr color space. Figure 7.13 below shows 3 formats known as 4:4:4, 4:2:2, and 4:2:0 video. 4:4:4 is full bandwidth YCbCr video, and each macroblock consists of 4 Y blocks, 4 Cb blocks, and 4 Cr blocks. Being full bandwidth, this format contains as much information as the data would if it were in the RGB color space. 4:2:2 contains half as much chrominance information as 4:4:4, and 4:2:0 contains one quarter of the chrominance information. Although MPEG-2 has provisions to handle the higher chrominance formats for professional applications, most consumer level products will use the normal 4:2:0 mode.


Macroblock Video Formats

Because of the efficient manner of luminance and chrominance representation, the 4:2:0 representation allows an immediate data reduction from 12 blocks/macroblock to 6 blocks/macroblock, or 2:1 compared to full bandwidth representations such as 4:4:4 or RGB. To generate this format without generating color aliases or artifacts requires that the chrominance signals be filtered.

The Macroblock is coded as follows:

Many macroblocks will be exact matches (or close enough). So send address of each block in image -> Addr

Sometimes no good match can be found, so send INTRA block -> Type

Will want to vary the quantization to fine tune compression, so send quantization value -> Quant

Motion vector -> vector

Some blocks in macroblock will match well, others match poorly. So send bitmask indicating which blocks are present (Coded Block Pattern, or CBP).

Send the blocks (4 Y, 1 Cr, 1 Cb) as in JPEG.

Quantization is by constant value for all DCT coefficients (i.e., no quantization table as in JPEG).
---
Next:
Inter-frame (P-frame) Coding
Up:
H. 261 Compression
Previous:
Overview of H.261
Dave Marshall
10/4/2001