Next:
2D (Image) Example
Up:
Frequency Domain Methods
Previous:
Frequency Domain Methods
Lets consider a 1D (e.g. Audio) example to see what the different domains mean:
Consider a complicated sound such as the noise of a car horn. We can describe this sound in two related ways:
sample the amplitude of the sound many times a second, which gives an approximation to the sound as a function of time.
analyse the sound in terms of the pitches of the notes, or frequencies, which make the sound up, recording the amplitude of each frequency.
In the example below (Fig
) we have a signal that consists of a sinusoidal wave at 8 Hz. 8Hz means that wave is completing 8 cycles in 1 second and is the frequency of that wave. From the frequency domain we can see that the composition of our signal is one wave (one peak) occurring with a frequency of 8Hz with a magnitude/fraction of 1.0 i.e. it is the whole signal.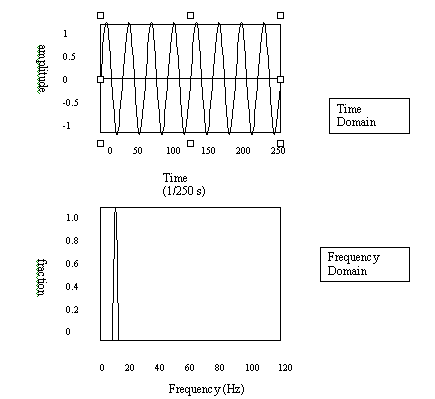 Relationship between Time and Frequency Domain
---
Dave Marshall
10/4/2001